About Us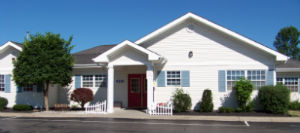 Amherst Baby & Childcare Center, Inc. was founded by Melvin and Carol Walbesser. The center opened it's doors in December of 1994. Carol is a Registered Nurse and is on site daily. The center is licensed by the New York State Office of Children & Family Services. We accept 20 infants, 25 toddlers, and 45 preschoolers. All staff members are CPR & First Aid trained.

The center is opened from 7 a.m. to 6 p.m. The center closes approximately 8 days per calendar year. Holidays are subject to change yearly, dependent on the calendar.
Playgrounds

The center has two playgrounds for outdoor play. The Toddler playground is located on the south side of the building. The playground has several climbers, houses and slides. The perimeter of the playground is secured with a chain linked fence. The surface of the play area is covered with rubber mulch. Children sled on the hill in the winter, and use sprinklers and water buckets for summer play.
The Pre-K playground is located on the north side of the building. The children have a large playground, a hill for sledding, and a paved "driveway" for riding cars and big wheels. The playground features climbers, a large spinner, and slides.
Security

The doors of the center are locked at all times, unless the children are outside for play. The front door has a coded security lock, and there are 14 cameras that monitor the activity inside and outside of the building. Web access is not available.